Description
Product information "TTE550 RS4 UPGRADE TURBOCHARGERS"
AUDI RS4 / S4 B5 / A6 C5 ALLROAD TTE550 UPGRADE TURBOCHARGERS 
The first TTE step to making your 2.7 TT motor shine. You the driver will feel RS4 K04 response with near RS6 unit power yet still keeping RS4 turbine housings. 550+PS capable.
Engineered & Enhanced
TTE550 Turbochargers start life and evolves from Genuine RS4 K04 OE units that are Engineered. These units offer you more performance yet offer near no loss in response over stock K04 once tuned with correct hardware & software. Very popular with owners wanting RS4 plug & play fitting units but with greater and wider performance to over 550PS but still keeping OEM drivability.
See below for example of an RS4 K04 Stock car VS RS4 TTE550 Mrc stage 3 tuned 99ron.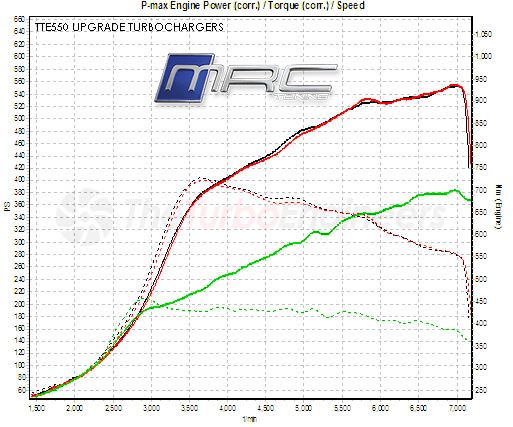 Performance with Durability
TTE550 RS4 compressor covers are CNC machined in house to an optimum clearance to allow fitment and maintain the efficiency of a larger more advanced Billet 2280X Extended tip compressor wheels with inducer size of 45.1mm with an exducer of 59.4mm Vs stock 2078 standard compressor with an inducer size of 39.9mm and exducer 51mm. We also as standard CNC mill the air inlet port on the compressor housing to remove a lip right before the compressor wheel to smooth the transition to the intake pipes to maximize performance.
The 2280X compressor wheel design features promote greater airflow using a low inertia wheel that performs like a wheel of even greater size and mass. Extended tip technology enables the user to have faster spool-up at lower engine speeds while providing the boost for the powerful top-end performance.
Turbine and shaft are RS6 size K04 items for increased flow and power so we CNC machine the RS4 turbine housing to suit the larger turbine used, tight tolerance is paramount here for overall performance. The turbine blades are also given a special curved clip. Clipping reduces the blade area thus increasing gas flow and so reduce backpressure and lowering exhaust gas temperatures, allowing safer higher boost levels. This process also gives a secondary advantage of removing some material mass, lightening the turbine thus reducing rotational mass improving moment of inertia.
Special profile BorgWarner 360 deg high-performance motorsport journal bearing are fitted, to remain durable at higher loads with no loss in transient response.
Actuators used are uprated sprung Genuine OE units fitted with our reinforced clamps for trouble free operation. These also can also be modified to customer needs and specifications.
Equilibrium
Precisely balancing our turbochargers is a key critical factor to become a TTE upgrade unit as longevity and performance are paramount. Good balance improves acoustics also. Subsequent great care is taken with all TTE turbochargers to achieving our balance standards. Firstly parts are balanced at slow speeds up to 2800RPM in multiple planes using our single parts machine, then components are assembled and then the CHRA are dynamically balanced, but this time depending on application at up to 250,000 RPM in multiple planes using our in-house VSR machine to acquire the ultimate equilibrium, to a standard far higher than OEM. Each turbocharger is supplied with serial numbered balance test result document.
TTE Billet Highly efficient compressor geometry
Genuine BorgWarner Turbines clipped(RS6 size)
Genuine BorgWarner reinforced and synchronised actuators
Genuine BorgWarner Reinforced motorsport bearing system
CNC Ported compressor inlets
Plug and Play Installation for RS4(S4/ A6 require K04 inlets)
550 PS+ proven
Single parts finely balanced then components assembled and core high-speed VSR balanced
Supplied with a balance test result document
Proven TheTurboEngineers quality
Made in Germany